Read our interactive PDF report:
We're excited to update the SaaS Demand Index with data through May 2023.
For our new readers: the Demand Index is derived from high-intent (aka "okta pricing") Google Search volume data.
Reminder: this is a directional, free, and ever-evolving analysis → always do your own due diligence.
Moreover, the data captured here is best characterized as top-of-funnel or dark funnel → factoring in sales cycle length, do NOT use this Demand Index as a predictor of near-term financial results and/or financial guidance.
Industry-Wide Data
High-intent search volumes are up 16% year over year.
On a sequential basis versus April (a seasonally weak month), the Demand Index was up 9%.
To frame these results, Gartner's April 2023 forecast has SaaS spending to grow +18% in 2023 and +18% in 2024
Demand by customer type continues to be highly correlated with diversified* performing best. (*i.e. not predominantly Enterprise or SMB)
Trends By Product Category
While some consensus narratives yet again hold – "Security = strong" and "E-Commerce + Marketing = weak" like past reports (April 2023, March 2023, Feb 2023, Jan 2023, Dec 2022), one new call-out:
Communications: Strong past 4 months, *perhaps* due to AI leverage for the contact center constituents
All of the category drill-downs – like this Communications example – are available in the slide PDF:
State of The Market – G2 + Sapphire + RepVue
G2 and Sapphire each released strong State of SaaS Buying reports – the most common themes were ROI, ROI, and ROI (seriously).
For More ROI Reading – See our research studies (n = 234) on "Drivers of Software ROI" and "The ROI Of IT + Software"
Sapphire "2023 SaaS Buyers Outlook" – Report | My Excerpts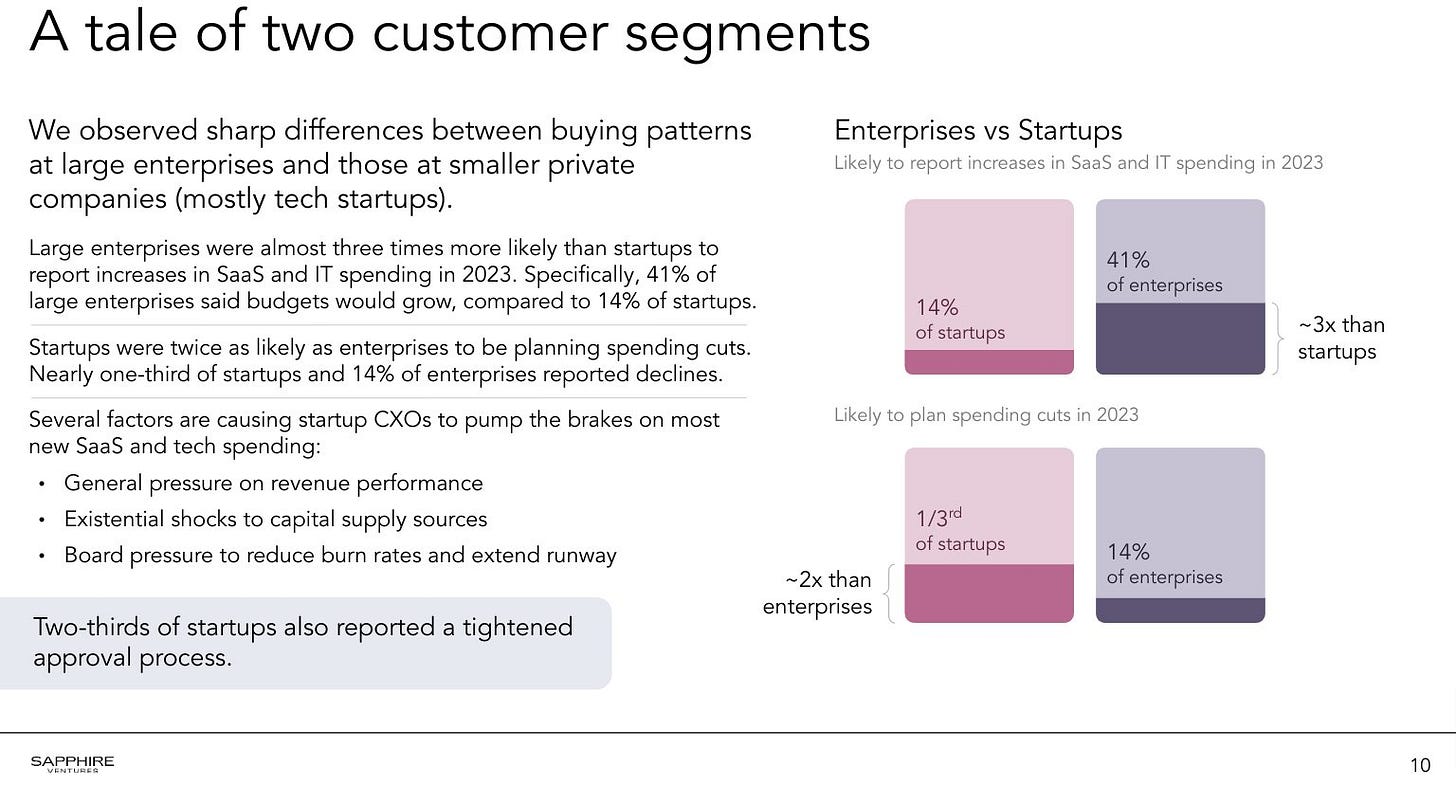 G2 "2023 G2 Software Buyer Behavior Report" – Report | My Excerpts
Lastly, RepVue's May 2023 Quota Attainment Data is threaded here. TL, DR – mixed results, with some weakness in forward-looking Sales Engineering and SDR quota attainment.
Curated SaaS Content
Tom Tunguz – "How Much More Efficient Should a SaaS Startup Be When Using AI?"

Dave Kellogg – "Interpreting The Insight 2023 Sales KPI Report"
Gerry Chen from Greylock – "The New New Moats: Why Systems of Intelligence are still the next defensible business model"
Cloud Ratings Content
We released our recent episode with CJ Gustafson (CFO of PartsTech – a Series C vertical SaaS – and author of Mostly Metrics):